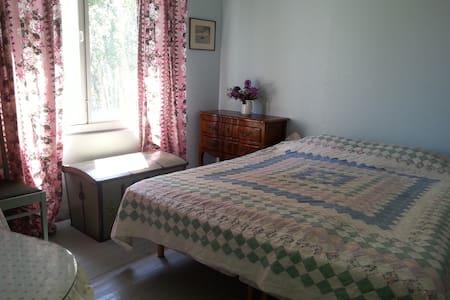 SUPERHOST
Ikamelo · Izivakashi ezingu- 8 · imibhede engu-5 · Amagumbi okugeza ahlanganyelwayo angu-2.5
In a countryside, by the sea in Sauvo
The house is a large family house with 4 bedrooms of which three of them are empty since the children have moved away. We live in the house too, but are very happy to share the house with our guests. You will share a bathroom, kitchen, shower room and living room. You can also use a summer room and outdoor kitchen during the summer as well as the rowing boat. We can help you in Finnish, English, Italian and Swedish on your queries as to what to do and where to go.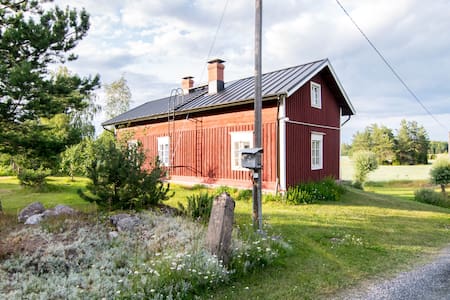 SUPERHOST
Indlu yonke · Izivakashi ezingu- 5 · imibhede engu-5 · Amagumbi okugeza angu-1.5
Finnish Country Side At Its Finest!
Suomalaista maalaisidylliä parhaimmillaan! Haluatko yöpyä keskellä ihanaa maalaismaisemaa? Tämä vuonna 1872 rakennettu talo on sisältä kauttaaltaan remontoitu vanhaa tyyliä kunnioittaen vuonna 2015. Iso tupa on viihtyisä ja toimiva leivinuuni takaa oikean tunnelman. Makuupaikkoja talosta löytyy kuudelle hengelle, kahdesta erillisestä makuuhuoneesta. Lisäksi tuvan puolelle on mahdollista saada lisävuoteita (2).Tupakeittiössä on perusvarustelu; jääkaappi, juokseva vesi, sähköliesi. Astiat, vuodevaatteet, pyyhkeet, lämmityspuut ja wc-paperi sisältyvät hintaan. Kahden muun asukkaan kanssa jaettu WC ja suihku sijaitsevat erillisessä rakennuksessa. Lisäksi ulkohuussi viereisessä rakennuksessa. Sijainti on ihanteellinen lapsiperheelle. Kesällä peltojen ympäröimällä tilalla on lampaita ja ympäristö on viihtyisä. Savusaunasta pääset pulahtamaan pieneen metsälampeen uimaan. Ympärillä upeat ulkoilumaastot, metsää ja järvi kävelyetäisyyden päässä. Sijainti on loistava Kemiön keskustan ja Taalintehtaan välissä. Kemiön keskustaan matkaa on noin 8 km. Keskustassa on kattavat palvelut, kauppoja, apteekki, bussiasema. Taalintehtaalle matkaa noin 20km. Tee varaus ja tule nauttimaan maaseudun rauhasta! ENGLISH The house/cottage is built in 1872 and located on a small old farm on Kimito Islands. The house was renovated in 2015 maintaining the old architecture . The kitchen is cozy with its old wooden floor, wooden benches and of course the big stove to keep you warm and/or to cook food . There are two bedrooms plus extra beds for the kitchen. The house has basic equipment; fridge, running water, small electric stove, cutlery, linens for the beds, towels, fire wood and toilet paper. These are included in the price. WC and shower is located in a separate building. If you want to experience life like it was in the old days , there is an Out House (WC) and water buckets in the sauna as a shower. The location is ideal for families and people who want to enjoy everything the county side have to offer with its forests, small fields and wild life. Not to mention the stillness. Here your mind will rest and the hectic world feels miles away. On the farm lives an old couple (Bengt & Leena) and and their cat (Ebba). In the summer, sheep are strolling around the near by fieds eating hay. A stone throw from the house there is a old traditional Finnish chimneyless sauna (savusauna). From the sauna you can dive in to a fresh water spring. The surroundings are idyllic. You can take long walks in the forest/ on the fields and on forest trails, drink strigt from a spring well and pick berries and muchrooms when in season. 1 km away is a swampy lake with wild bird life. The farm is 8 km from Town Kemiö. There you can find all the services you need. Grocery stores, shops, pharmacy, hospital, bus station etc. How to get here You can come by car or bus. Inform us about your arrival and Bengt can pick you up from the buss station. Several busses daily from Turku and Helsinki. You can also take a Archipelago HopOn HopOff- bus from Helsinki or Turku. Read more at Make your reservation now and experience the pure Finnish nature at its finest. Kimito Islands has become a new popular place to visit in Finland See more information at SVENSKA Övernatta på en gammal liten bondgård mitt i naturen. Stockhuset är byggt år 1972 och nyligen grundligt renoverat enligt den gamla stilen. Huset består av ett stort kök, litet sovrum och ett stort sovrum. Köksstugan är mysig och rymlig. Köket kan också användas som sovrum med extra bäddar och en utdragbar antik kökssoffa om man vill pröva på något annorlunda. Huset har flyttbara värmeelement men också kakelugnar I varje rum. Huset är försett med basutrustning: kylskåp, rinnande vatten (Varmt och kallt) liten elspisplatta, kärl, sängkläder, handdukar, vedklabbar och toapapper som inkår I priset. WC och dusch finns I en separat byggnad. Lantgården är idealisk för barnfamiljer och för de som vill stanna upp och njuta av lugnet och allt vad naturen har att erbjuda. På sommaren är det får på bete på åkrarna runt huset och närmiljön är överlag trivsam. Ett stenkast ifrån huset finns det en rökbastu och en liten vattenkälla I skogen där man kan ta sig ett dopp mellan de mjuka aromatiska bastubaden. Gården är omringad av åkrar och skog. 1 km bort finns ett större träsk med ett rikligt fågelliv. Gården befinner sig mellan Kimito centrum och Dalsbruk. Till Kimito centrum är det ca. 8 km. Centret har omfattande tjänster, affärer, apotek, busstation. Dalsbruk ligger ca 20 km bort. Kom och njut av lugnet på landsbygden . Boka nu!