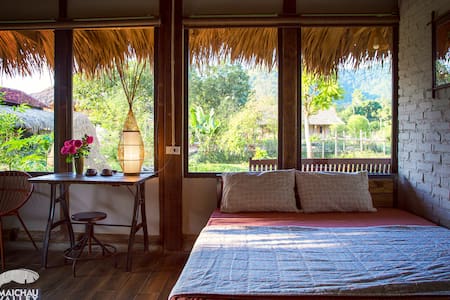 SUPERHOST
Ikamelo lase hhotela · Izivakashi ezingu- 2 · umbhede ongu-1 · Igumbi lokugezela elilodwa
Nature Logde ❤️ Mai Chau Valley next to Mountain
"Apart from the paved road, it hasn't changed much since the French left" -Mr. Trung, an old local- This retreat was built by nature lovers, who have been living in the busy cities long enough to know they need to get away from it. Here you can see tables made by rock brought from the mountain, or the crops planted by us, and cooked and served to you. 

Wandering around this rural area and see a real Vietnamese life left from the old time of French colony, is a truly unique experience.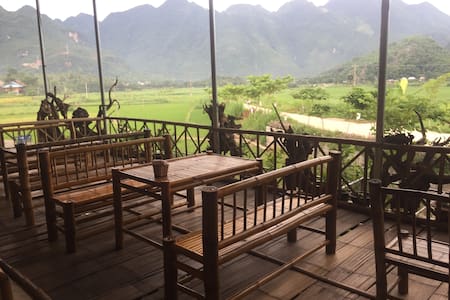 Ikamelo · Izivakashi ezingu- 2 · umbhede ongu-1 · Igumbi lokugeza langasese eliyi-1
Authentic stilt house homestay with amazing view
Welcome to my house, Truong Huy homestay in Mai Chau! Stay in a traditional stilt house with a White Thai ethnic minority family. Lodging is simple but clean and comfortable. You will have the best experiences of living like a local and seeing the beautiful nature as well as culture that Mai Chau has to offer.
các du khách sẽ được trải nghiệm sống và ngủ trên 1 nhà sàn của người dân tộc Thái và ngủ 4 phòng khép kín điều hòa mát lạnh các du khách sẽ được tự tay mình hái những ngọn rau sạch tại vườn,được ngắm nhìn khung cảnh thơ mộng,hoà chung những điệu múa xạp ,múa xoè của người dân tộc Thái và đi xe điện thăm quan các bản làng, trải nghiệm văn hóa và ẩm thực của người dân tộc Thái tại đây !