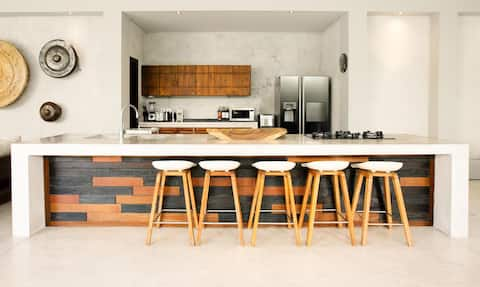 Ama-townhouse aqashisayo e-Cowley, Oxfordshire
Thola futhi ubhukhe ama-townhouse aqashisayo ahlukile ku-Airbnb
Ama-townhouse aqashisayo anesilinganiso esiphezulu e-Cowley, Oxfordshire
Izivakashi ziyavuma: lawa ma-townhouse aqashisayo anesilinganiso esiphezulu ngokwendawo akuyo, inhlanzeko, nokunye.
I-townhouse e-Oxford
Idolobha lase-Oxford lilula ukuhambahamba indlwana yomfula
Okuhle kunakho konke: indlu entofontofo engasemanzini yohlobo lwe-Victorian esiqhingini somfula esinemizuzu engu-10 yokuhamba ngezinyawo esikhungweni se-Oxford, 5 ukuya esiteshini sesitimela. Ilungele abantu abangu-2 kodwa ilala abantu abangu-4 ngokunethezeka. Vula umlilo ne-log burner, amafasitela e-sash, ingadi ye-patio enelanga, i-wi-fi.
4.92 (363)
I-townhouse e-Oxfordshire
Oxford townhouse with parking
A stylish and extremely well equipped 3 bedroom/3 bathroom family home with vaulted ceiling living room and delightful garden space. On street parking in front of the house is provided for 1 car (**2 cars short term offer in December **) for each day of your stay, although further free on street parking is available 5 minutes walk away.
4.93 (43)
I-townhouse e-Oxfordshire
Unique 4 Bedroom Townhouse near Central Oxford
Stylish, modern, 4 bedroom townhouse close to the heart of Oxford, within walking distance from the city centre and only 2 minutes from the vibrant Cowley Road with an array of shops, restaurants and bars. The kitchen/dining room is outstanding and a real stand out feature of this home!
4.94 (67)
Ama-townhouse aqashisayo alungele umndeni
Kuboniswa izinto ezingu-0 kwezingu-0
Kuboniswa izinto ezingu-0 kwezingu-0
Ama-townhouse aqashisayo anovulandi
Kuboniswa izinto ezingu-0 kwezingu-0
Izindawo eziqashwayo zeholide ezifanela sonke isitayela
Thola ubungako bendawo obukwenele.
Izinto ezidingekayo ezithandwayo zama-townhouse aqashisayo e-Cowley, Oxfordshire