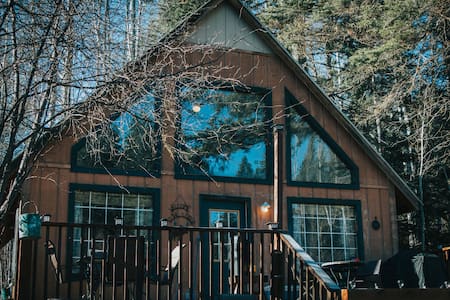 SUPERHOST
Indlu eyakhiwe yamapulangwe yonke · Izivakashi ezingu- 15 · imibhede engu-5 · Igumbi lokugezela elilodwa
Cabin on the River- Leavenworth/Wenatchee St. Park
Beautiful PET FRIENDLY/ RIVER FRONT family built off-grid cabin, built with lots of love and less experience. 15 Miles West of Leavenworth, 4 miles from Wenatchee State Park. This off-grid, glamping cabin has full time propane for heat and cooking, a propane generator for all electrical needs. There is no better place to enjoy the beautiful outdoors! Hiking, fishing, swimming, kayaking, right out the front door! Come and enjoy the fresh air, play board games and horseshoes.
SUPERHOST
Indlu yonke yeholide eyakhiwe ngokhuni · Izivakashi ezingu- 8 · imibhede engu-4 · Igumbi lokugezela elilodwa
Hot Tub Cool Views: Roaring Creek Cabin
Coronavirus update May 2020 Rentals are allowed and we are happy to welcome guests who follow social distancing practices. We clean according to CDC guidelines between each guest. Please do not plan to buy groceries in Leavenworth if you are coming from out of town--I suggest just by groceries in your town and bring them up to the cabin. Otherwise, this is a good place to be, because there is so much open space out here! The Roaring Creek Cabin offers a getaway nestled in the North Central Cascades perfect for groups and families (with dogs), in need of some time in the woods. The rustic atmosphere is accentuated by vaulted ceilings with lots of natural light and mountain views via the wide windows, the home's wood and stonework, as well as perks like your very own private hot tub. The cabin is on 20 acres of private woodland meadows and forest with a network of trails adjacent to 500 acres of protected public Bureau of Land Management (BLM) land. Pet friendly! Please note that the owner of the cabin lives on the lower end of the 20-acre lot (below the road) well out of sight and earshot from the cabin. Feel free to come down and say hello! A Dog- and Family-Friendly Getaway! With a Hot Tub! Sometimes you just need to get away from the hustle and bustle of the city and enjoy some splendid natural beauty. The Roaring Creek Cabin offers an incredible North Central Cascades getaway perfect for groups and families (with dogs), in need of some rest and relaxation. Surrounded by woodlands, it's just a quick drive to pristine slopes in the winter, and with perks like your very own private hot tub, this is one vacation rental you won't want to miss. Uniquely Situated in the Woods. A Private Setting! Nestled deep in the woods, you'll love driving to and from your new home-away-from-home (it's a scenic two-hour drive from Seattle). The quaint Bavarian town of Leavenworth is just 19 miles south for all your dining needs, with skiing a quick 18-mile drive westward at beautiful Stevens Pass. More attractions await at Lake Wenatchee State Park eight miles to the north, but if you're just looking for a nature hike, all you need to do is step out of your door! This setting is wonderfully seasonal--with 6+ feet of snow in the winter and 90 degree temps in the summer, and almost daily rainbows in the spring and fall. A Fully-Equipped Kitchen - Just Like Home The Roaring Creek Cabin is a spacious, homey getaway with an incredible selection of comforts. This multi-level home's large rooms and vaulted ceilings give groups of up to eight enough space to relax after a long day of exploring the great outdoors. The rustic atmosphere is accentuated by lots of natural light and amazing views via the wide windows, the home's incredible wood and stonework, as well as a large variety of charming objects decorating the walls. Cool Views: Inside and Out Take in the stunning view and some bracing mountain air on your very own private deck, then step back inside to the cozy living room. The large, plush sectional sofa is perfect for getting family and friends together for some relaxation, made even better by the stone-facade wood stove that keeps everyone nice and toasty in the cold winter months. This cabin offers a great opportunity to unplug; put those stressful work emails aside (although wifi is available), put some music on the speakers, and just sit back and take in the view of the woods and mountains from the many windows. Eat and Relax: It's Vacation! The dining area is near the living room, with a charming table for four and seats for four more at the breakfast bar nearby. For those hoping to take in amazing mountainside views with their meal, good news! The deck offers another table for four and an incredible view to accompany your meal. We Love the PNW The main attraction of this home is all around you: the gorgeous nature of the Pacific Northwest! Visitors in the spring, summer, and fall can simply step out of the door and enjoy a walk through the surrounding woodlands, or head to nearby Lake Wenatchee State Park for hiking, fishing, swimming, golfing, and more. Wintertime visitors, meanwhile, can take a quick drive to Stevens Pass, and tear up the slopes with skis and snowboards. After excursions, you can come back home and take a nice, long soak in your private hot tub, complete with an incredible view on the deck. Leavenworth has Something for Everyone! If you ever need a break from exploring the great outdoors, the low-key, quaint town of Leavenworth is just 19 miles south. Styled like a Bavarian village, Leavenworth boasts charming architecture, several restaurants and shops, and gorgeous views of the mountains. You can explore the town's shops and cafes at any time of the year - as well as visit nearby attractions like the Upper Valley Museum and Icicle Junction mini-golf and arcade just a mile from town. October visitors can take in the excitement and energy of a traditional Oktoberfest festival, complete with all the brews and brats you could ever want. Guest Access Please note that during the winter you will need chains or all-wheel-drive to access the cabin. The road is regularly plowed, but traction is required. Guests can access the entire house except for the pantry (off the hallway) and a small portion of the basement with a locked lattice door. The Neighborhood There are other full-time residents on this road. Please respect their privacy and peace and quiet. Getting Around There are no taxis or public transit out near the cabin, so you will need to have your own vehicle. Please carpool because parking in the driveway is limited. Other Notes This is a highly seasonal location. There is ~6 feet of snow in the winter. The spring and fall are absolutely stunning. Summer can be as hot as 95 degrees, but usually there is a nice breeze up in the mountains. I won't see you while you are there, but give me a call or email if you need activity suggestions!